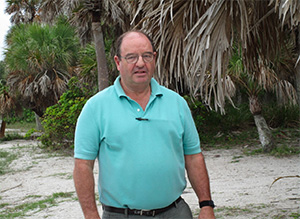 Captain Rick Rhodes has lived in St. Petersburg, Florida since 2001. He is well-traveled in the Americas, and can speak some Spanish. Rick grew-up in the Midwest and Washington DC. He has Forestry Degrees from West Virginia University and Virginia Polytechnic Institute. Captain Rhodes twice served as an instructor, in the late 1970's for the U.S. Army Corps of Engineer School, and again in the late 1980's for the Annapolis Sailing School.
For most of his adult life, Captain Rick has lived aboard boats, three of them –sail, power, and trawler. He has extensively sailed the Ohio and Potomac Rivers, the Chesapeake Bay and the Gulf Coast of Florida. He has also made two six-month sailing voyages to Central America. From 1999 to 2000, Rick served as a Peace Corps Volunteer in Ecuador.
Captain Rick has a fervor for trailblazing. He often found himself to be one of the first in an area that would later be heavily trodden. Before he was 22 years old, Rick hiked the Appalachian Trail, and visited all 48 contiguous states, mostly by motorcycle. Wherever he goes, Rick has engrossed himself in local history, and has a passion to share this.
Before his "They Made America Great" nonfiction work, Captain Rick researched and wrote nine well received guidebooks. His guidebooks cover various river or coastal regions of the Eastern United States and Central America.
Offering educational programs is an offshoot to book researching and writing. Captain Rick offers several one-hour educational and travelogue programs. He has developed history programs on Ulysses S. Grant, Harry Truman, Clara Barton, John P. O'Neill and others. Two of his other educational programs are 'The Underground Railroad,' and 'The Trail of Tears.' His three regional travelogue programs are, 'Exploring Florida's Big Bend Gulf Coast,' 'The Ohio River in American History,' and 'Discovering the Tidal Potomac River.'
In St. Petersburg Florida, Rick is a member of the Bay Area Professional Writers Guild (past Treasurer), and past president of two Toastmasters Clubs, and past member of his church's 'Hand-in-Hand-with-Haiti' Committee.