PAPERBACK: "They Made America Great – 31 Endearing Legacies Worth Heeding Today"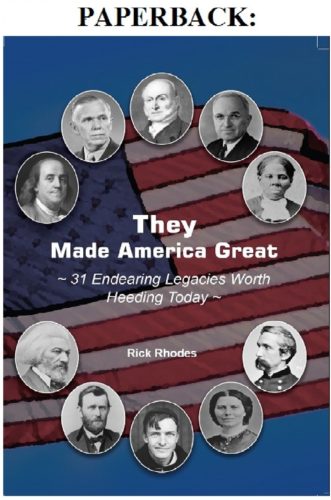 Published in 2017, "THEY MADE AMERICA GREAT," spans more than 250 years of history. This book is a collection of 31 heartwarming short stories of Americans who have travelled the road behind us. Some are well known, like Harry Truman, John Quincy Adams, George Marshall, Ulysses Grant, David Crockett, Meriwether Lewis, Harriet Tubman, Frederick Douglass, Clara Barton, Lou Gehrig, John Wooden, and the Wright Brothers. However, some endearing heroes presented here are little known. This work aims to be an uplifting antidote to a society inundated with fake news, bombast and intolerance for the other side.
Price: $17.95
Published: 2017
Number of pages: 232
Size: 6" x 9"